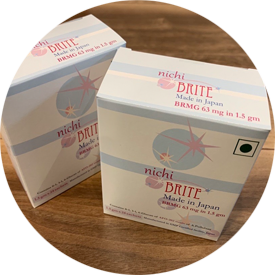 Nichi BRITE is one of the brands of Nichi Glucan range of food supplements produced in Japan in a GMP facility. Being a produce of AFO-202 strain of Aureobasidium Pullulans, comes in a box of 24 sachet with 1.5 grams per sachet containing 63 mg of B-1,3-1,6 Glucans; A clinical study in patients with Parkinson's disease used this product with a dose of 126 mg of B-1,3-1,6 Glucans per day, amounting to two sachets per day of Nichi BRITE.
The implications of gut dysbiosis due to imbalance of beneficial vs harmful microbiome on the central nervous system through the gut -brain-axis is considered a major cause of neurodegenerative diseases. Having proven in earlier clinical studies of the efficacy of Nichi BRITE range of B-Glucans in controlling the harmful Enterobacteriaceae and Escherichia coli, a clinical pilot study in adult patients with Parkinsons disease was conducted which yielded beneficial outcome in terms of UPDRS score and constipation score (Manuscript under preparation).
This Beta glucans have been approved as food additives and consumed in Japan since 1996; doesn't contain any of the 28 commonly notified allergens. Could be consumed directly or mixed with yoghurt or jam.
Publications of relevance:

Ikewaki N, Sonoda T, Kurosawa G, Iwasaki M, Dedeepiya VD, Senthilkumar R, Preethy S, Abraham S . Beta 1,3-1,6 glucans produced by two novel strains of Aureobasidium pullulans exert immune and metabolic beneficial effects in healthy middle-aged Japanese men: Results of an exploratory randomized control study. J Aging Res & Lifestyle 2023;12:61-71. doi: 10.14283/jarlife.2023.11.

Chockanathan Vetrievel, Allimuthu Nithyanandam, Subramaniam Srinivasan, Sudhakar S Bharatidasan, Vidyasagar Devaprasad Dedeepiya, Nobunao Ikewaki, Masaru Iwasaki, Rajappa Senthilkumar, Senthilkumar Preethy, Samuel JK Abraham. Evaluation of the disease modifying effects of Aureobasidium pullulans AFO 202 strain produced Beta Glucan in Parkinsons disease Results of a pilot clinical study. medRxiv 2023.04.14.23288571v1 doi: 10.1101/2023.04.14.23288571 (In pre-print)
* Links to publications are posted for educational purposes only.
Nichi GLOW is a food supplement, not a drug or substitute to any drug or remedy to illness. No therapeutic claims; those who want to discuss about the clinical studies reported, may consult a physician.
Nichi Glucan range of products available in the brands, viz., Nichi Glucan, Nichi Glucan REFIX, Neu-REFIX, Nichi BRITE, and Nichi GLOW are free from any of the following notified common allergens listed as per the Consumer Affairs Agency, Government of Japan. (Japanese)
Shrimp, crab, wheat, buckwheat, egg, milk, peanut (peanuts), Almond, abalone, squid, salmon roe, orange, cashew nut, kiwi fruit, beef, walnut, sesame, salmon, mackerel, soybean, chicken, banana, pork, matsutake mushroom, peach, yam, apple, gelatin.
Disclaimer