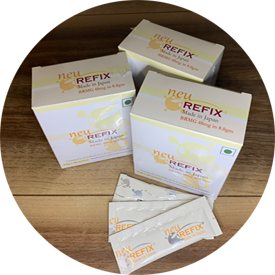 Neu REFIX is one of the brands in the Nichi Glucan range of products; specifically, this is a produce of N-163 strain of Black Yeast Aureobasidium Pullulans, comes in a box of 20 sachet (each 8.0 gram of gel; 48mg Beta 1,3-1,6 glucan/Sachet)
In pre-clinical studies*, in comparative studies in healthy volunteers, and in patients with Covid-19, the N-163 strain produce has been proven to have potent anti-inflammatory and anti-fibrotic properties. Based on such advantageous outcome, a clinical study in young boys with Duchenne Muscular Dystrophy (DMD) has been completed; a longer duration study under planning, while additional validations in pre-clinical MDX mice models under progress.
Publications of relevance:

Raghavan K, Dedeepiya VD, Srinivasan S, Pushkala S, Subramanian S, Ikewaki N, Iwasaki M, Senthilkumar R, Preethy S, Abraham S. Disease-modifying immune-modulatory effects of the N-163 strain of Aureobasidium pullulans-produced 1,3-1,6 Beta glucans in young boys with Duchenne muscular dystrophy: Results of an open-label, prospective, randomized, comparative clinical study medRxiv 10.1101/2021.12.13.21267706v1; doi: 10.1101/2021.12.13.21267706
* Links to publications are posted for educational purposes only.
Neu REFIX is a food supplement, not a drug or substitute to any drug or remedy to illness. No therapeutic claims; those who want to discuss about the clinical studies reported, may consult a physician.
Nichi Glucan range of products available in the brands, viz., Nichi Glucan, Nichi Glucan Refix, Neu-Refix and Nichi Glow are free from any of the following notified common allergens listed as per the Consumer Affairs Agency, Government of Japan. (Japanese)
Shrimp, crab, wheat, buckwheat, egg, milk, peanut (peanuts), Almond, abalone, squid, salmon roe, orange, cashew nut, kiwi fruit, beef, walnut, sesame, salmon, mackerel, soybean, chicken, banana, pork, matsutake mushroom, peach, yam, apple, gelatin.